Acupuncture / Traditional Chinese Medicine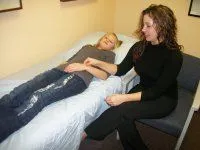 Traditional Chinese Medicine is the world's oldest medical treatment. TCM is based on the principal that our health depends on balanced functioning of the body's motivating energy, known as Qi (chee). Practitioners of TCM do not look for the individual symptoms but rather the total picture of the patient. It is under this basic tenet of what the Chinese term 'root and branch' that the root is treated thus many symptoms (branch) are alleviated together. Acupuncture is perhaps the most recognized area of TCM; however Chinese herbal therapy, cupping and other treatments are also integral in the practice of TCM. Diseases treated by acupuncture include: Gynecological disorders, Gastrointestinal disorders, Allergies, Asthma, Respiratory, Addictions, Depression, Anxiety, Stroke, Arthritis, All types of pain, Circulatory issues, Infertility and many other conditions. Despite the use of needles, acupuncture is painless and has no side effects!

New Patient and Routine: $75 for an hour
30 Minute Session added to a Chiropractic Treatment: $45
Most insurance accepted.
"The superior physician does not just treat disease, but teaches society and helps form the intentions of humanity." - Sun Si Miao