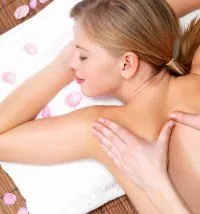 Hands on Massage Therapy
Massage therapy offers a natural conservative treatment approach that relieves musculoskeletal pain for many patients. Our office provides highly trained and experienced therapists who tailor their treatments to meet the patient's condition and injury. The benefits of massage therapy may include increasing blood circulation, reducing swelling, relaxing muscles, relieving muscle pain and spasms, and aid in recovery and range of motion.
30 Minute Massage: $45
60 Minute Massage: $70
90 Minute Massage: $95
Migun Bed - Alternative Stress Relief
We all have stress. If you experience stress and carry it in your back, neck, shoulders, head, or legs you may find relief through a session on our Migun Thermal Massage Bed which is being offered at Wholeness Healing Center. This bed offers an alternative means to rid your body of the stress and toxins that accumulate and may give you discomfort which, if ignored, may even move into illness or injury.
Our Migun Thermal Massage Bed may be a "calgon take me away" experience for you, leaving you feeling like "butter" when your time is over. Very little is required of you as you remove your shoes, lie down on the bed, and begin your relaxation process. Infrared heat is projected through the jade massage heads that travel automatically up and down the spine, neck, head, and legs. Jade stones are said to contain healing properties that hold the heat as it provides your body release. Release of the stress is further stimulated when the massage heads apply stimulation to acupuncture and pressure points, providing you a soothing relaxation to your body as layers of stress begin to be peeled off.
Hand-held external jade massage heads can allow specific target areas of stiffness or soreness; neck, shoulder, chest, ribs, abdomen, thighs, knees and ankles also reap the powers of the heated Migun massage. This whole experience provides release of toxins in the body. As the massage heads stimulate specific points of the body through its acupressure, it accesses the Eastern philosophy of recharging life force to bring proper balance back. This is done through temporarily blocking the circulation of Qi (energy) and then release "jump starting" the Qi movement to flush out the toxins. This will be further enhanced when you drink water after the session.
These massage beds blend the philosophy of Western and Oriental medicine as it works on five basic principles: chiropractic, massage, acupressure, acupuncture, and heat therapy (moxibustion). People have experienced the use of the bed restoring alignment in their body, thereby relieving nerve interference. It has been reported to increase the function of tissue cells and enhance blood circulation with its therapeutic infrared heat that penetrates deep into the tissues.
You may experience ease of chronic pain, speed recovery from sports injuries and make your muscles more agile. Because it stimulates your tissues and nerves around the acupressure points, it is comparable to an hour of jogging. Muscles that are not used are awakened through these thirty minutes of stimulation.
The Migun Thermal Massage System is approved by FDA as a Class II medical instrument under the 510 k regulation, and can be used without a prescription. Call to schedule with a treatment or by itself $1 per minute .